TRANSFORM YOUR SHOWER INTO A SOOTHING AROMATIC OASIS
♡ Relieves stress
♡ Clears nasal congestion
♡ Enhances feeling of relaxation
Regular price
Sale price
$36.00 USD
Unit price
per
Sale
Sold out
Indulge in the shower-spa experience with this revitalizing Shower Steamer Gift Set! This set includes 6 individual shower steamer tablets designed to provide an aromatherapy boost with every wash. So let the spa come to you, and get ready to steam the day away!
Enjoy a different scent each day.

Each shower steamer gift set includes one of each:
Relax - infused with an essential oil blend of blood orange, bergamot, grapefruit, patchouli and ylang ylang to help unwind after a long day.
Dream - lavender, mandarin, geranium, sweet marjoram, frankincense, palmarosa and ylang ylang essential oils so you can enjoy a calming shower. 
Breathe - revitalize with the refreshing scents of  ravintsara, eucalypts, lemon, laurel leaf, peppermint and cardamom essential oils.
Uplift - boost you shower with the energizing scent of orange essential oil.
Focus - clear your mind before a busy day with a well balanced blend of grapefruit, bergamot, basil and lemon essential oils.
Alleviate - relieve head pain with  peppermint, sweet basil, rosemary, chamomile, wintergreen, frankincense, lavender, and sweet marjoram essential oils.
*Each shower steamer comes with an organza bag so you can hang your steamer in the shower.
Ingredients

Sodium bicarbonate, citric acid, cream of tartar, kaolin clay, essential oil blend, menthol crystals, polysorbate 80, witch hazel
Peaceful Promise

Love it, or you'll receive a full refund on your purchase.
Addtional Info & Care Instructions
View full details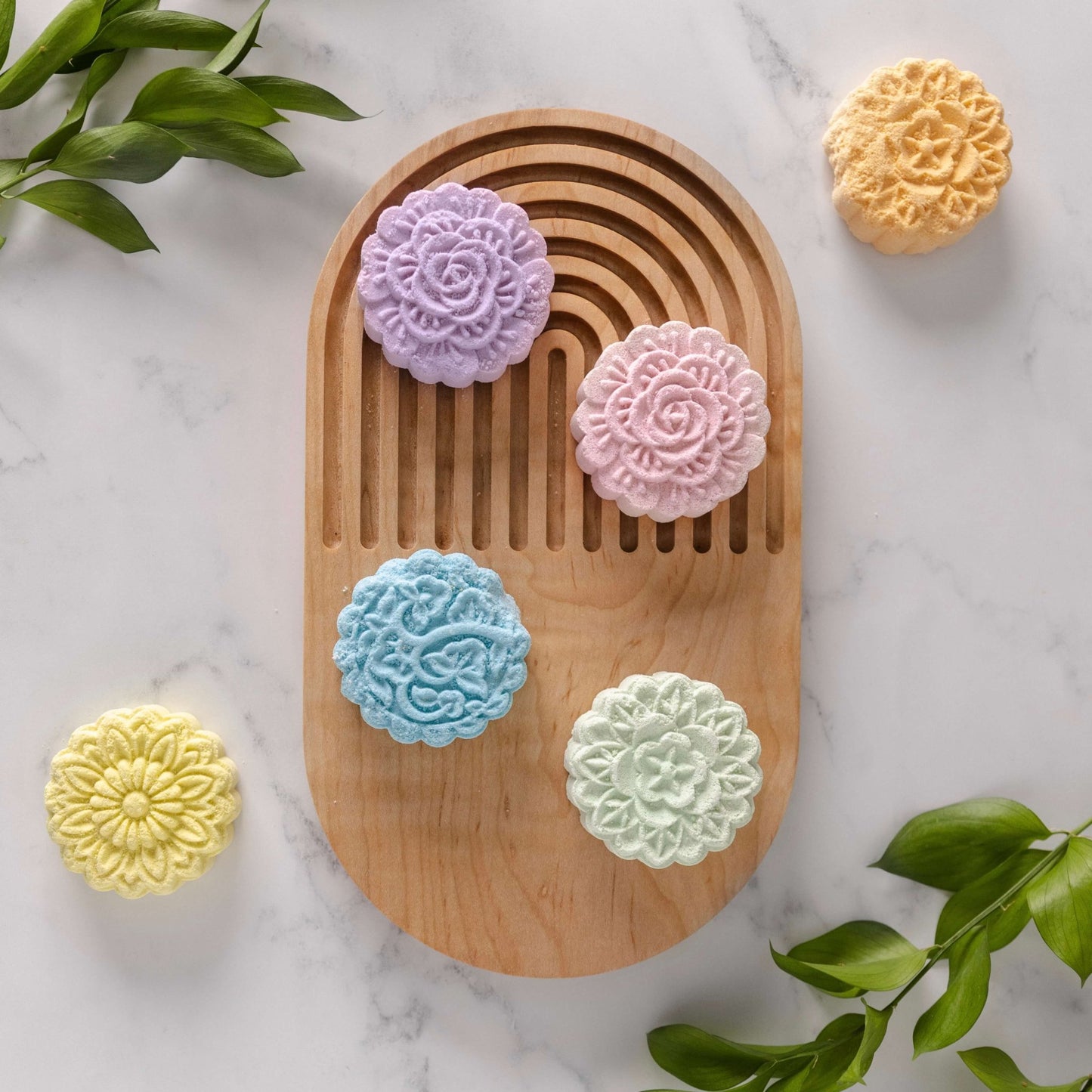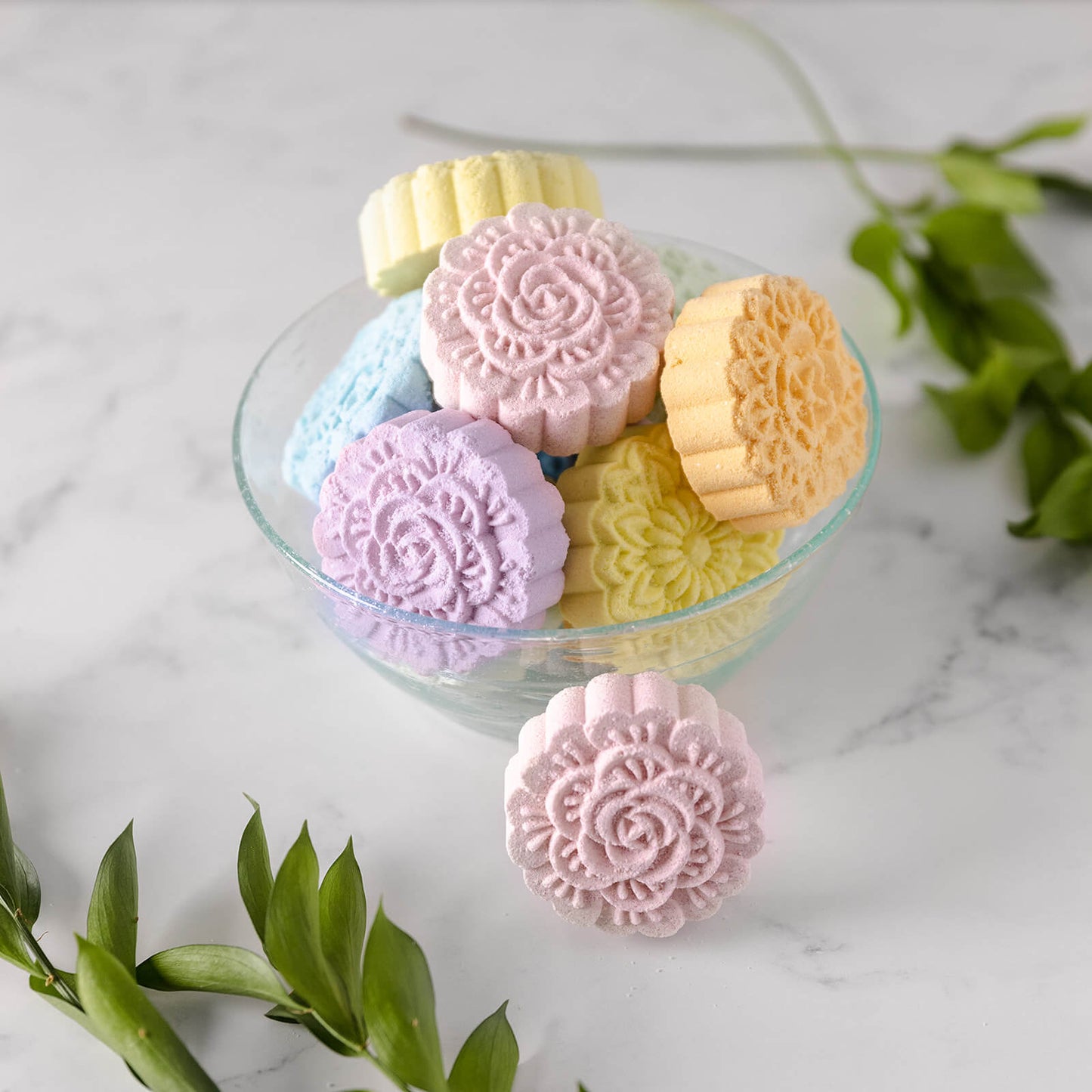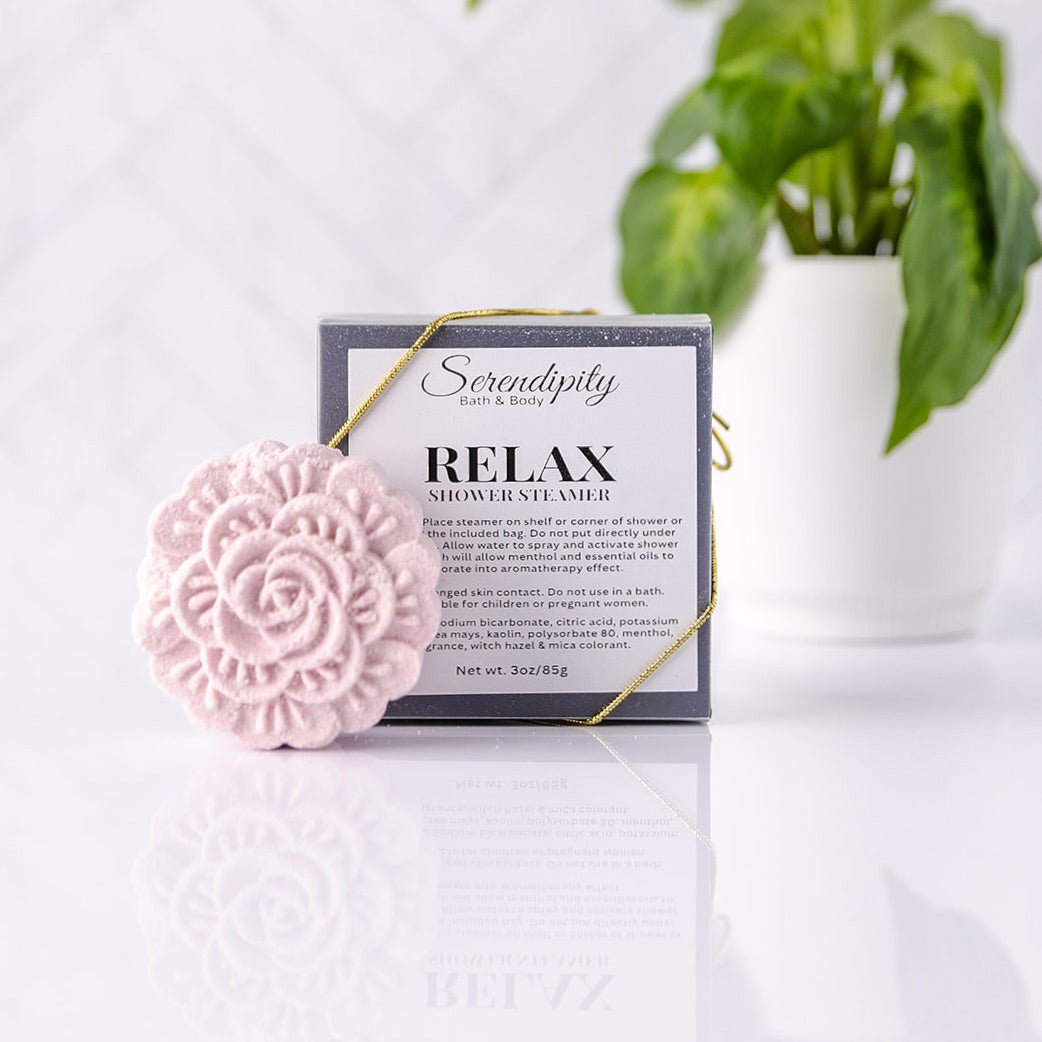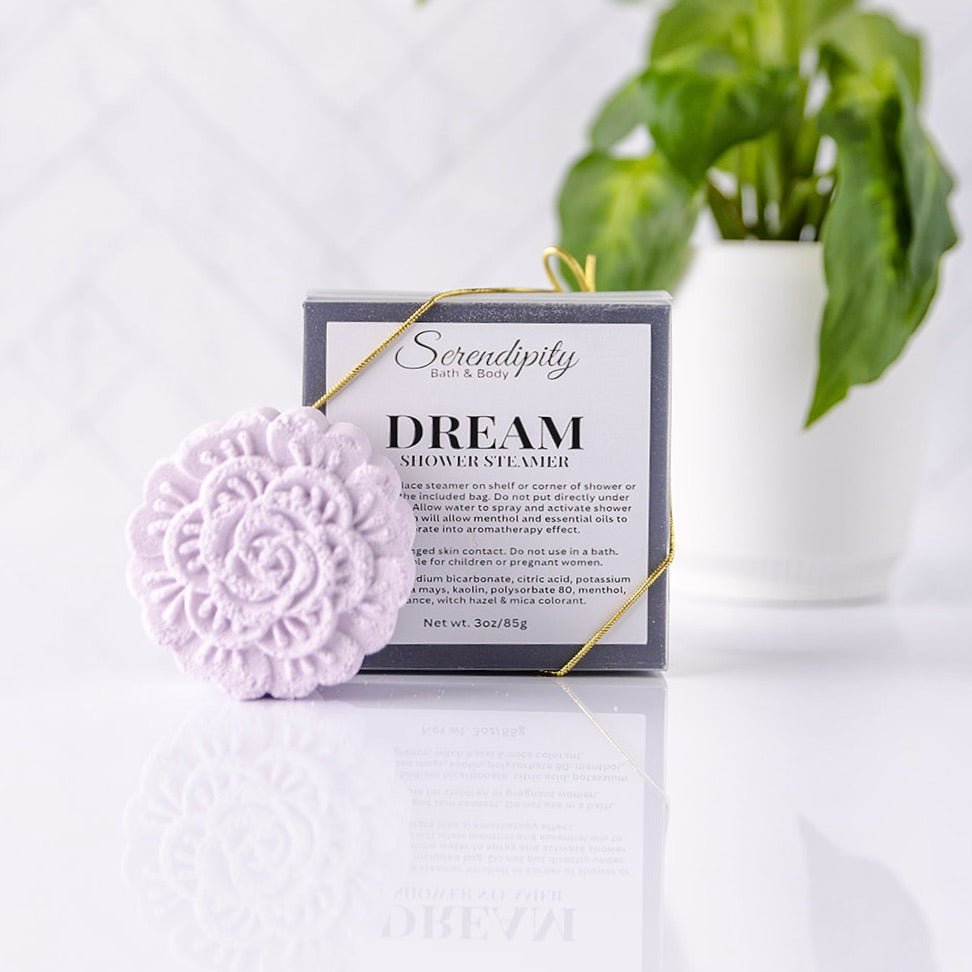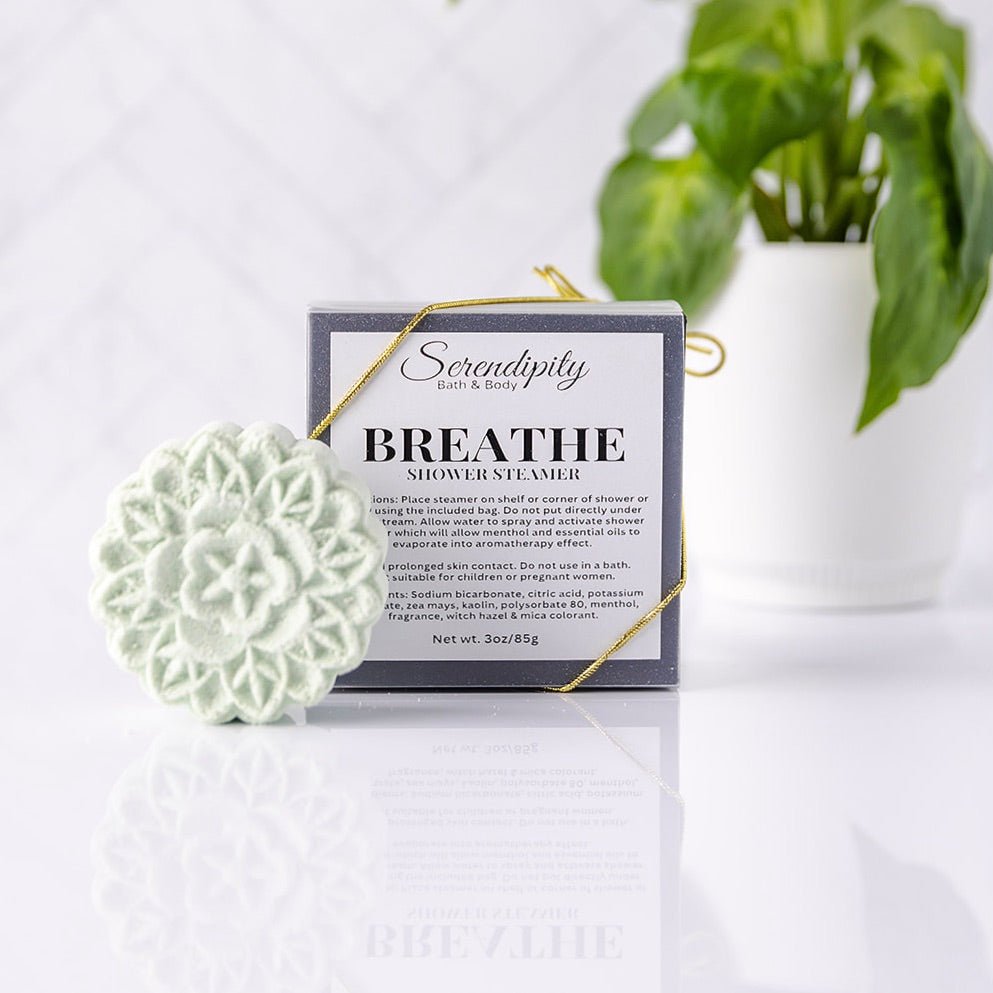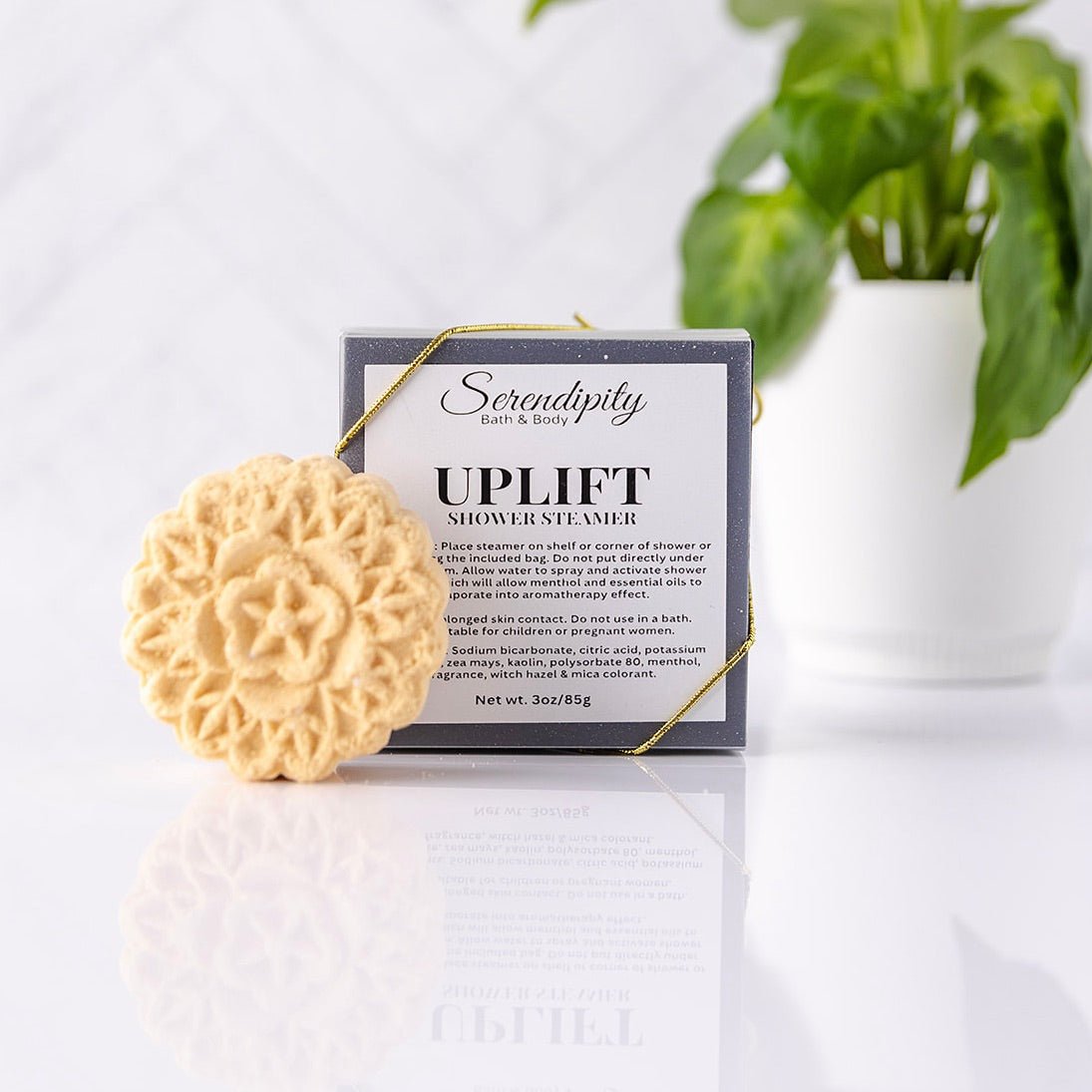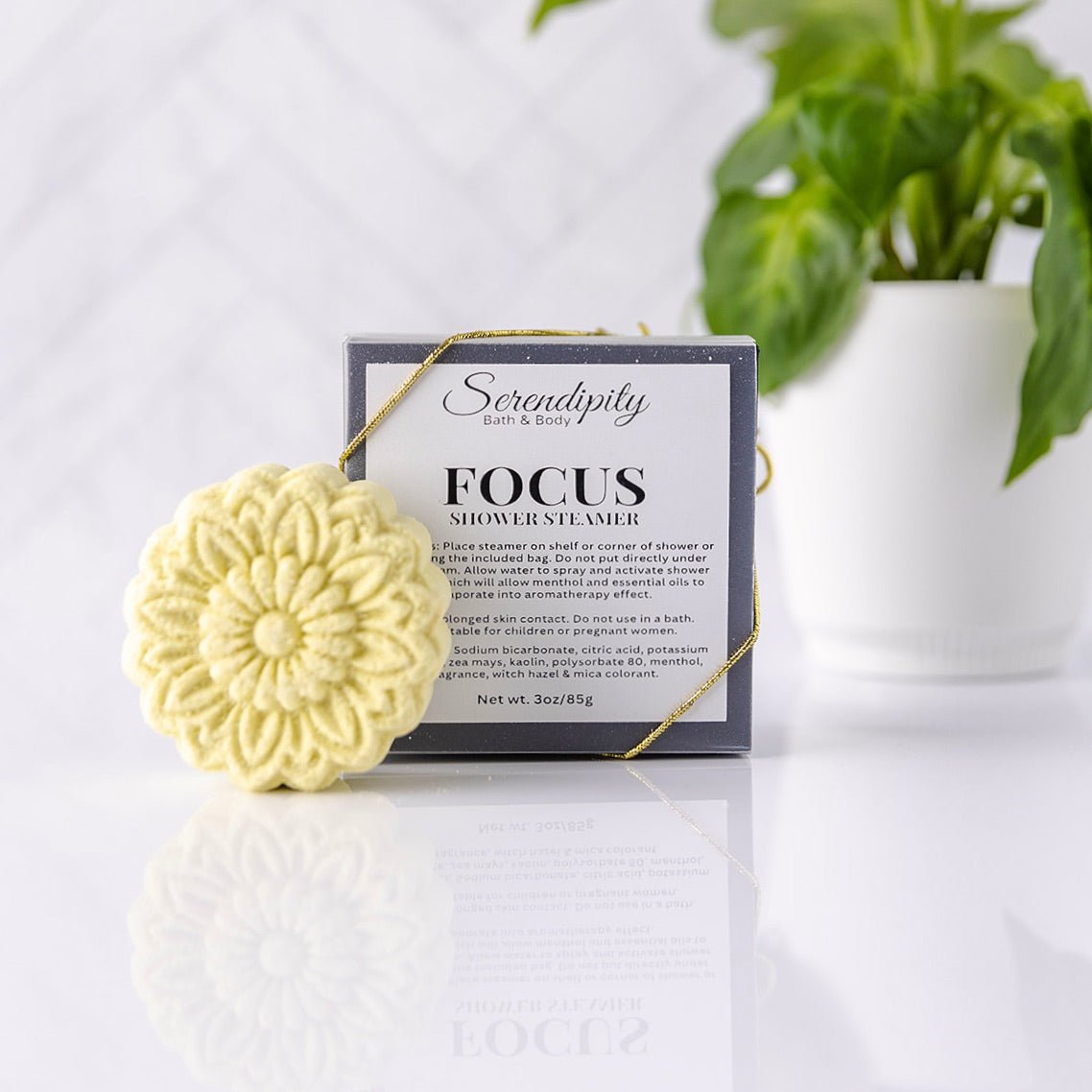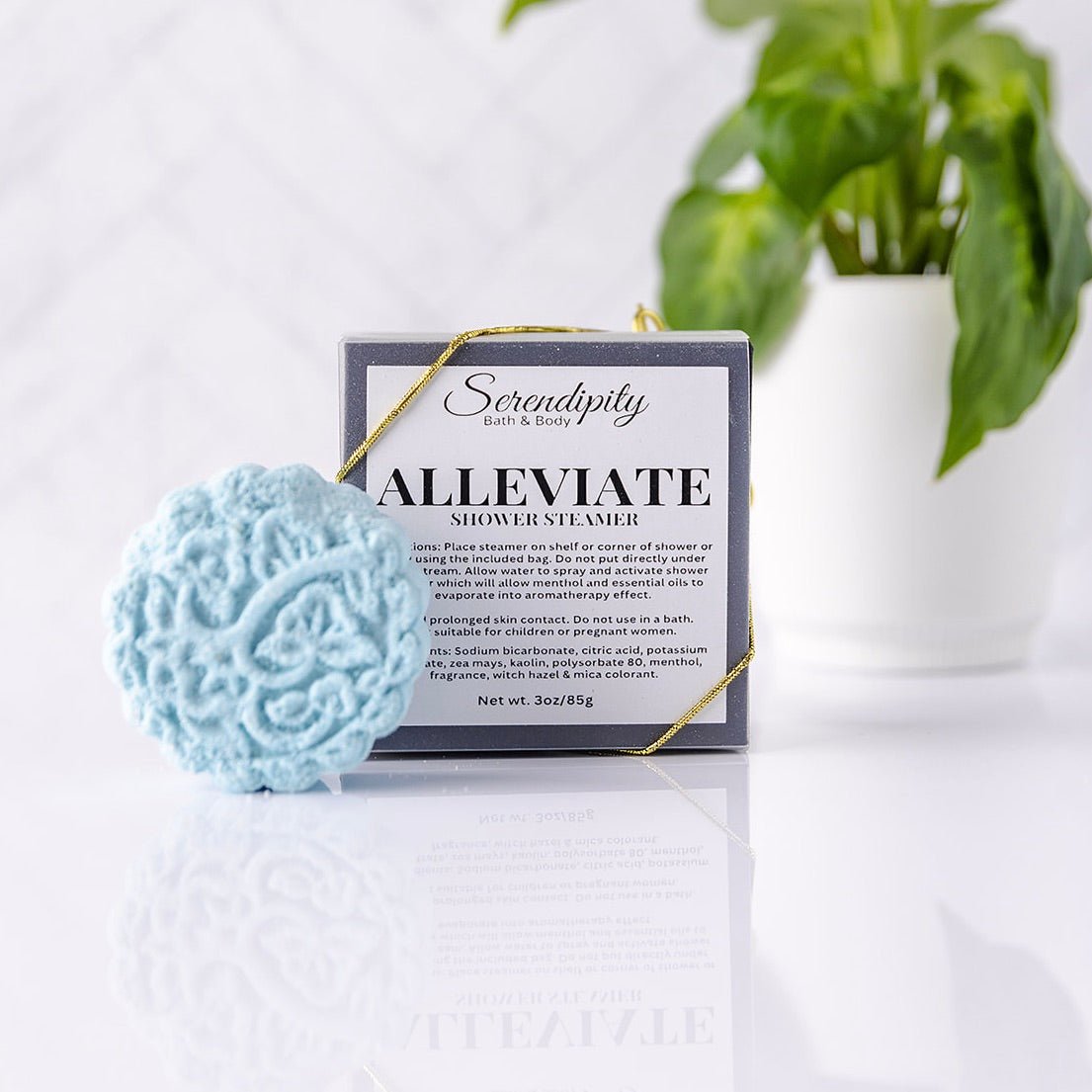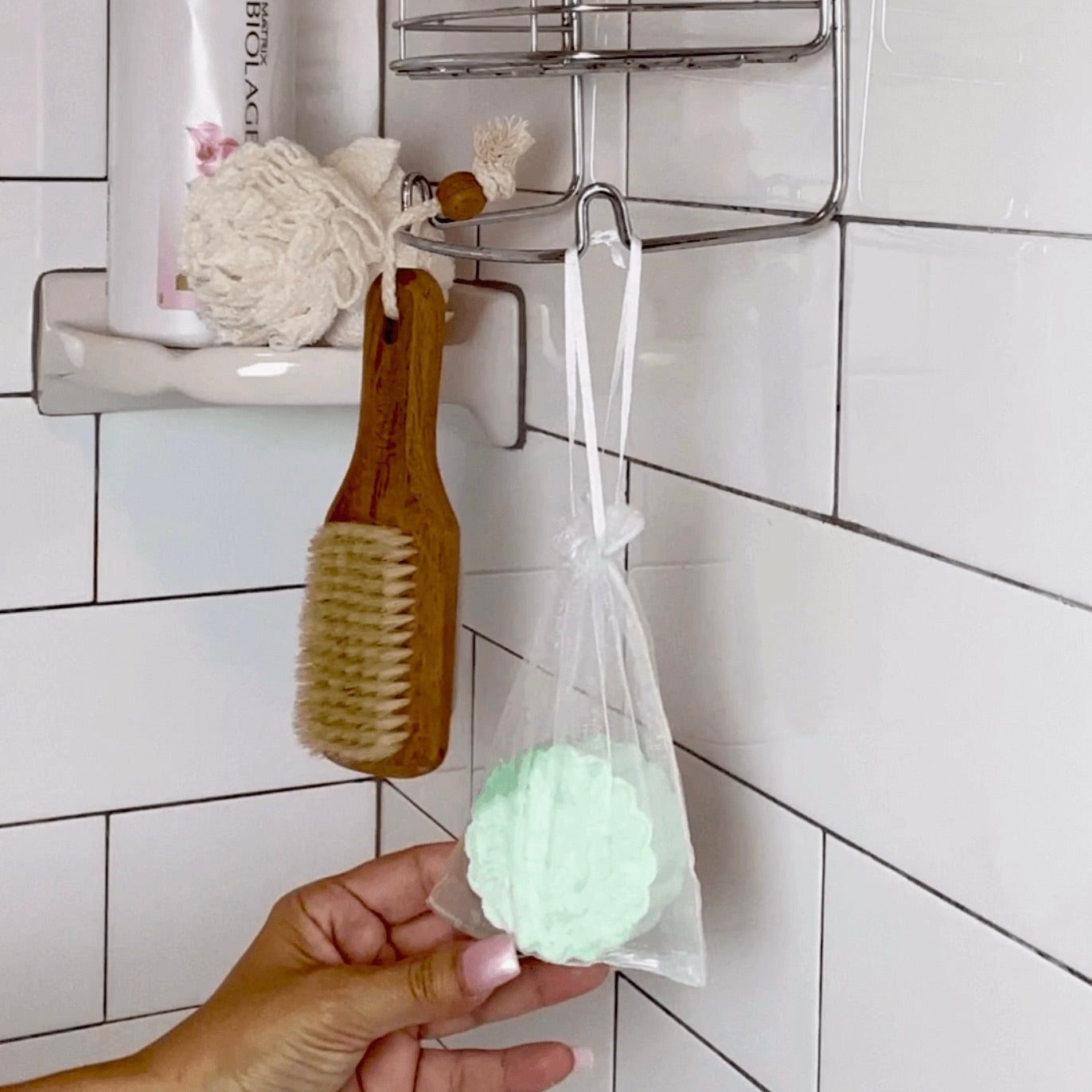 It's Like a Bath Bomb for Your Shower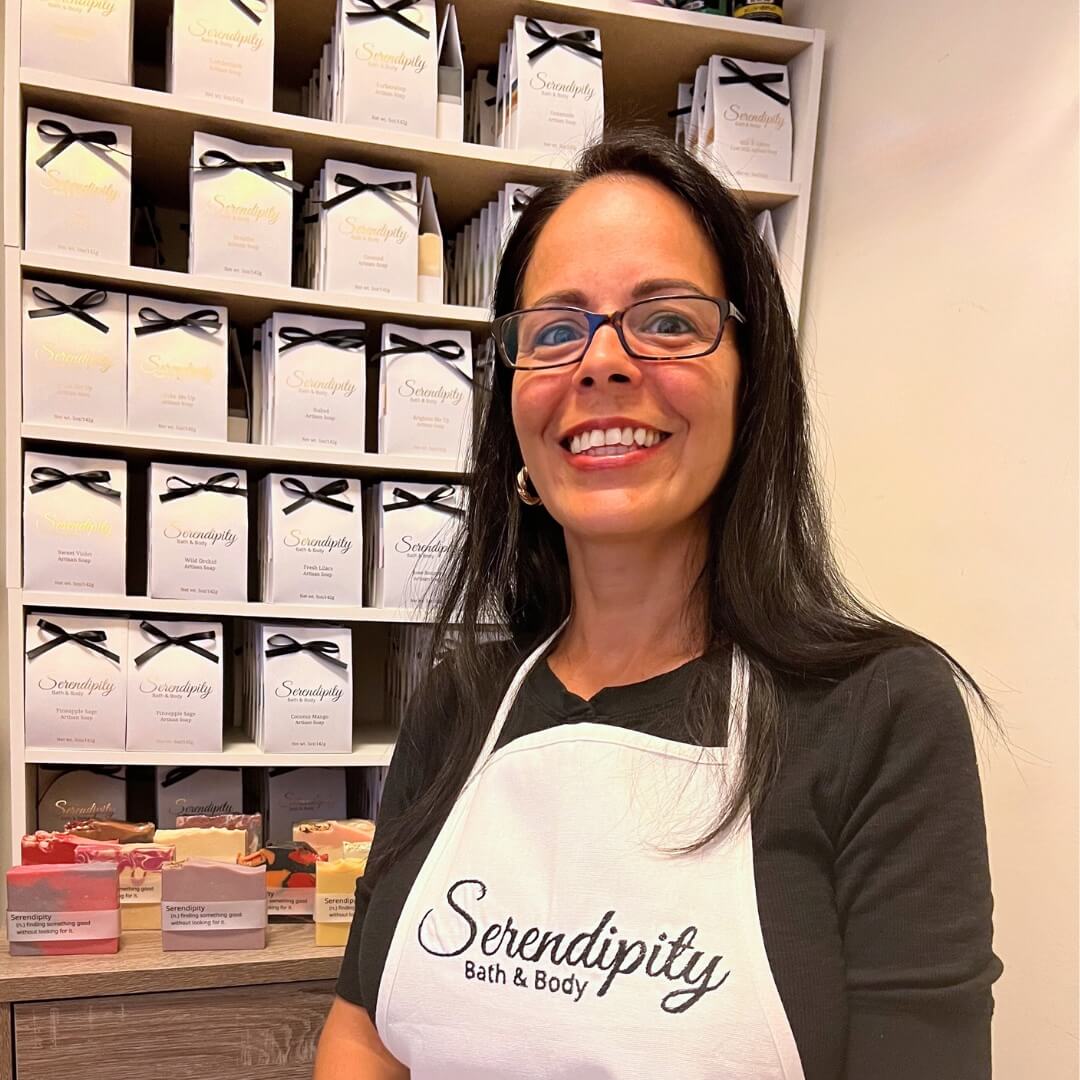 Why Serendipity?
By infusing our products with captivating scents, vibrant colors, and exquisite designs, we aim to transport you into a world of sensory bliss that surpasses your ordinary skincare routine. With an unwavering commitment to creativity and excellence, our mission is to craft products that go above and beyond mere skincare. We're passionate about nourishing and cleansing your skin, while also treating you to a luxurious and pampering experience. Prepare to indulge in a truly unforgettable bathing experience that nourishes your body and soul.
Frequently Asked Questions
How do shower steamers work?

Shower steamers are tablets made with essential oils and menthol crystals. When exposed to water and steam, shower steamers release their fragrant oils into your shower. The steam and aroma created by shower steamers can help create a spa-like experience and provide relaxation.
How to use shower steamers?

Place the shower steamer in a location where it won't be directly hit by the water stream but still receives steam, such as a shelf, soap dish or hang from your shower caddy (our favorite method). You can also place the shower steamer on the shower floor, away from the direct flow of water, to allow the steam to activate it. Breathe deeply and enjoy the fragrance while you shower.
How to make shower steamers last longer?

Our favorite way to have a long lasting shower steamer is to hang it in your shower using the included organza bag which helps keep it away from a direct stream of water. Due to the size of our shower steamers, hanging it is the preferred method to enjoy your shower steamer for several showers.
Are shower steamers safe?

Shower steamers are generally safe to use when used as directed. However, it's essential to check the ingredients list for any potential allergens or irritants that may affect you personally. If you have respiratory issues, consult with a healthcare professional before using shower steamers. Shower steamers should not be used by children or pregnant women.